Oceanfront Luxury Rancho Playa Negra, Costa Rica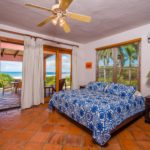 Full Description: CASA SOMOS UNO
This amazing 6,500 square feet, contemporary design, beachfront home sits 25 steps off the water, has spectacular views of the ocean and Playa Negra coast line. Stainless steel and giant windows blend with high teak wood ceilings and Spanish tiles to create a unique open-air design that captures the beauty of Costa Rica. Located in a private gated community in Playa Negra, the house is surrounded by tropical landscape and palms, has private access to an isolated quiet beach with spectacular tide pools and snorkeling. A short walk down the beach takes you to the famous surf spot of Playa Negra. A 4th level sky deck offers panoramic views of the coast line, unforgettable sunsets and incredible star gazing.
The upper level of this beachfront home has two master bedroom suites with queen beds, spacious bath rooms and private decks overlooking the pool and Pacific Ocean. The front entry and mid level is a panoramic delight with floor to vaulted ceiling windows on both sides giving you full ocean views to the west and majestic mountain views to your east. The main living area, overlooks the ocean and swimming pool, has a half bath powder room, an open fully equipped kitchen and grand dining room that seats 8 or more. With 4 large sliding glass doors that open out to the deck where the pool is located you have spectacular ocean views from any seat in the house. This mid level also has a 3rd bedroom suite with a queen bed, full bath and opens to the pool area with ocean views. On the ground level is a game room with a ping pong table and wet bar, laundry room, a 4th large bedroom with 2 sets of bunk beds, full bath and a large 2 car garage. An outside shower, patio furniture, swimming pool and A/C throughout the house makes this an ideal indoor outdoor "pura vida" vacation home.
Amenities include: on site property management who can assist with all aspects of your vacation including personal pick up at airport, rental car brought to the house, grocery shopping, arranging tours, etc. There is A/C throughout the house, Satellite TV, Phone, DVD and VHS machine, Swimming Pool, Sky Deck, Laundry room (personal laundry service is additional charge), Game Room, Ceiling fans, fully equipped Kitchen, Microwave, Dishwasher, large 2-car garage, gas BBQ, Alarm, and daily maid service available.
Home Features

Air Conditioning
Alarm
Balcony
Cable/Satellite TV
Dishwasher
Garage

Microwave
Patio/Deck
Swimming Pool
Washer/Dryer
Waterfront

Community Features

Bike Paths
Controlled Access
Tennis Courts
Available
Not Available
February

2018

Mon
Tue
Wed
Thu
Fri
Sat
Sun

5

Somos - Ed C 2/5-10 CI&D sent 2:00

•

6

Somos - Ed C 2/5-10 CI&D sent 2:00

•

7

Somos - Ed C 2/5-10 CI&D sent 2:00

•

8

Somos - Ed C 2/5-10 CI&D sent 2:00

•

9

Somos - Ed C 2/5-10 CI&D sent 2:00

•

10

Somos - Ed C 2/5-10 CI&D sent 2:00

•

12

Somos - Cory Preist 12 -16 CI&D sent

•

13

Somos - Cory Preist 12 -16 CI&D sent

•

14

Somos - Cory Preist 12 -16 CI&D sent

•

15

Somos - Cory Preist 12 -16 CI&D sent

•

16

Somos - Cory Preist 12 -16 CI&D sent

•

17

Somos - Charity Libby Sanders 2/17-25 CI&D Sent

•

18

Somos - Charity Libby Sanders 2/17-25 CI&D Sent

•

19

Somos - Charity Libby Sanders 2/17-25 CI&D Sent

•

20

Somos - Charity Libby Sanders 2/17-25 CI&D Sent

•

21

Somos - Charity Libby Sanders 2/17-25 CI&D Sent

•

22

Somos - Charity Libby Sanders 2/17-25 CI&D Sent

•

23

Somos - Charity Libby Sanders 2/17-25 CI&D Sent

•

24

Somos - Charity Libby Sanders 2/17-25 CI&D Sent

•

25

Somos - Charity Libby Sanders 2/17-25 CI&D Sent

•

26

Somos - Charity Libby Sanders 2/17-25 CI&D Sent

•